Laser Skin Resurfacing along 30A & South Walton, FL
Laser Skin Resurfacing
If you are looking for visible moderate to dramatic improvement of your skin, you may want to consider laser resurfacing. Those who have deep wrinkles in typically difficult-to-treat areas such as around the mouth and eyes have found laser resurfacing to be the very best treatment for these types of conditions. At 30A Medical Spa, we use the Sciton Joule® laser to create a customized treatment depending on specific skin goals and downtime. Below we have detailed different modalities available for laser skin resurfacing.
Sciton MicroLaserPeel®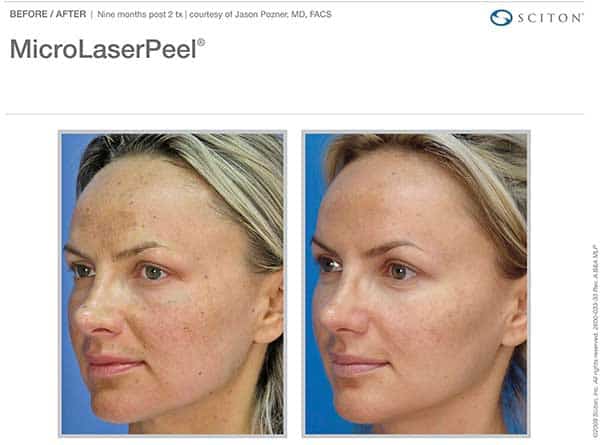 The MicroLaserPeel® is a superficial skin resurfacing process that removes a thin layer of skin in order to improve the texture and provide a more youthful appearance of the skin surface. It provides superior results with minimal downtime or recovery because it can be applied with great accuracy. This procedure is performed in office using a topical anesthetic for maximum comfort. Depending on treatment settings, downtime can range from 3-10 days.
MicroLaserPeels can be done as an individual treatment or combined with other Sciton Laser Resurfacing treatments such as the ProFractional® or BBL.
Conditions commonly treatment include:
Mild wrinkles
Scars
Keratosis
Sun damage (e.g., freckles)
Pigment irregularities
ProFractional® Laser
The ProFractional®  Laser by Sciton is an ablative laser treatment that creates narrow channels in the skin, targeting a fraction of the total treatment area. By leaving much of the skin intact, ProFractional Laser treatments allow for a much quicker recovery with increased collagen production that will continue to develop for up to six months.
ProFractional Laser treatments can reduce fine lines and wrinkles, scarring and loose skin by stimulating your body's natural wound response. Treatments can target the face, neck, hands, and chest for younger-looking skin. Due to the fractional nature of the laser, the procedure is more comfortable and has minimal downtime. While many patients see noticeable results with one treatment, some patient will need a series of 2-4 treatments spaced 6-8 weeks apart provide the best results.
ProFractional Laser treatments are commonly combined with other procedures like MicroLaserPeel™ and Broadband Light (BBL) for a powerful combination. The ProFractional Laser reaches deep into the skin to stimulate collagen production, while laser peels and surface treatments can eliminate superficial blemishes on the surface of your skin.
Contour TRL
For moderate to severe lines and wrinkles, the Contour TRL treatment may be the best option for you. This laser safely removes a layer of skin to a precise depth that will be pre-determined depending on your skin condition, desired outcome, and expectation of downtime. Contour TRL treatments successfully eliminate problematic lines and wrinkles around the eyes and the mouth that are difficult for other laser treatments to target. The procedure also targets sun damage, scars and actinic keratosis for improved skin tone and texture.
The procedure generally 30-45 minutes, depending on the depth of your skin being reached and the size of the area being targeted. Immediate results are evident after just one treatment and increased collagen production will continue to tighten skin and create a healthy glow for up to six months.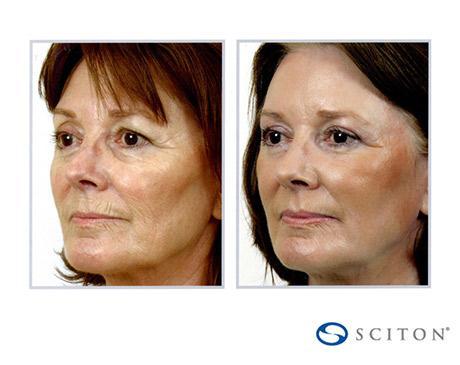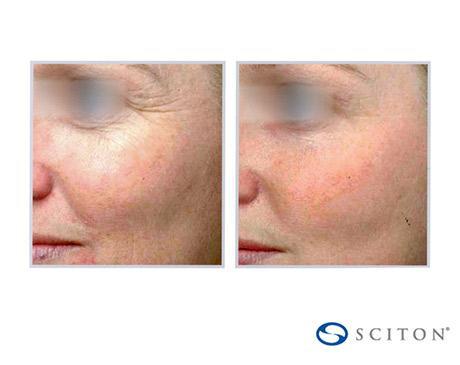 The procedure is relatively comfortable, although you may feel a slight stinging sensation during the treatment. All anesthetic options will be discussed in detail at your initial consultation.
Recovery takes 1-2 weeks depending on the depth of treatment. For more aggressive treatments, patients may have prolonged redness and the skin will be sensitive to UV rays. Prepping the skin with a medical grade skin care regimen and avoiding direct sun are vital to reducing side effects and maximizing results.