Permanent Makeup along 30A & South Walton, FL
Permanent Makeup
Applying makeup every day can be time consuming and exhausting. If you are looking for a quicker, more convenient way to enhance the natural appearance of your eyes or lips, we have the answer for you here at 30A Medical Spa.
Permanent Makeup, also called Cosmetic Tattooing or Micropigmentation, is the process of implanting color pigment beneath the surface of the skin by means of a tiny, sterile, disposable needle to produce the appearance of cosmetic makeup or to enhance the natural features of the face. This procedure can add pigment to your eyebrows, lash line, or lips. The application makes sparse eyebrows fuller and gives the illusion of fuller lips and enhanced eyes.
Brows
While microblading is commonly used when referring to permanent makeup of brows, it is simply one of many techniques that can be used. Here at 30A Medical Spa, we offer the most advanced, natural techniques for pigmenting brows depending on the needs and desires of the client. Each service is completely customizable and can look as natural and light, or as dark and dramatic as you prefer.
Since recommended techniques vary from person to person, we will begin your appointment with a consultation to discuss your skin type, lifestyle, and the desired shape/color of your eyebrows. This will give your provider the opportunity to answer any questions or concerns you have. Next, we will stencil out the shape so you can see how it will look before we begin, removing excess hair and making adjustments for symmetry.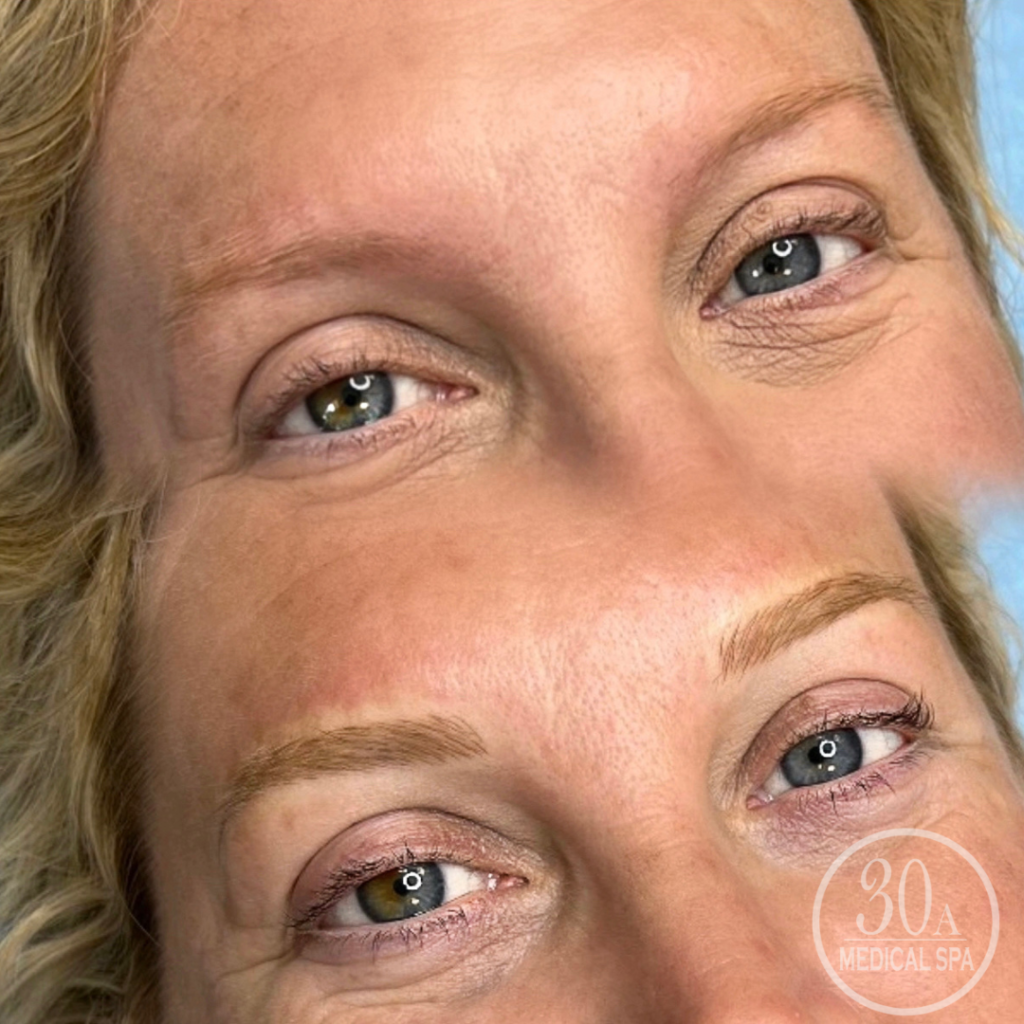 After the initial session, you'll return for a follow-up session in 6 to 8 weeks at which our provider will perfect the look. Additional strokes can then be added and tweaking the shape of your brows if necessary. This is known as the perfecting session.
Please be prepared that eyebrow color intensity will be significantly darker within the first few days of the procedure, but fade significantly (approximately 30-50%) over the healing period (4+ weeks).
Lips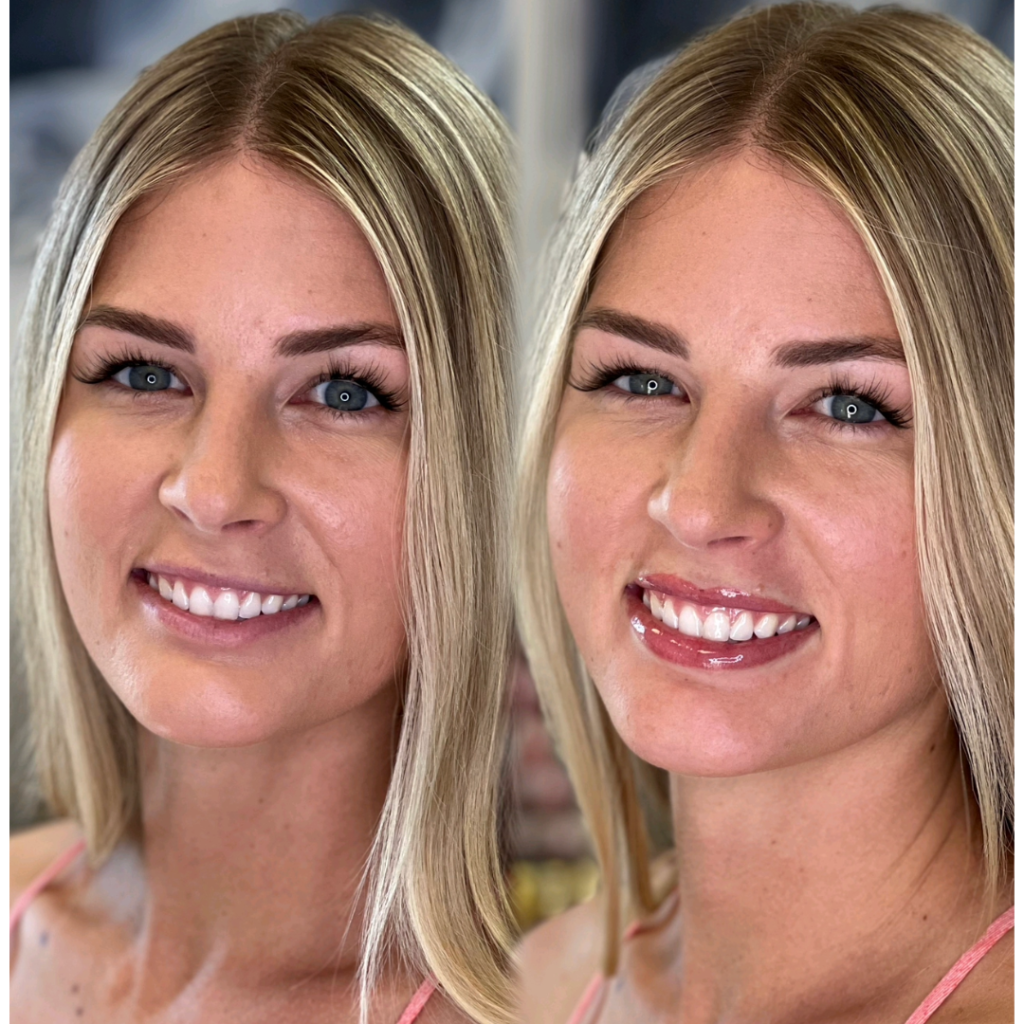 Lip blushing is a great alternative to the Botox "lip flip" or even dermal fillers. Lip blushing can even be done in conjunction to these aesthetic procedures to maximize the effectiveness of lip enhancement treatments.
Whether it is the lip design, shape or color you are interested in, we can help at 30A Medical Spa. Lip blushing is achieved with a natural blending method into the lips so there is no line of demarcation.
This is completed in two sessions, each 6-8 weeks apart. Touch up is priced included in the initial payment.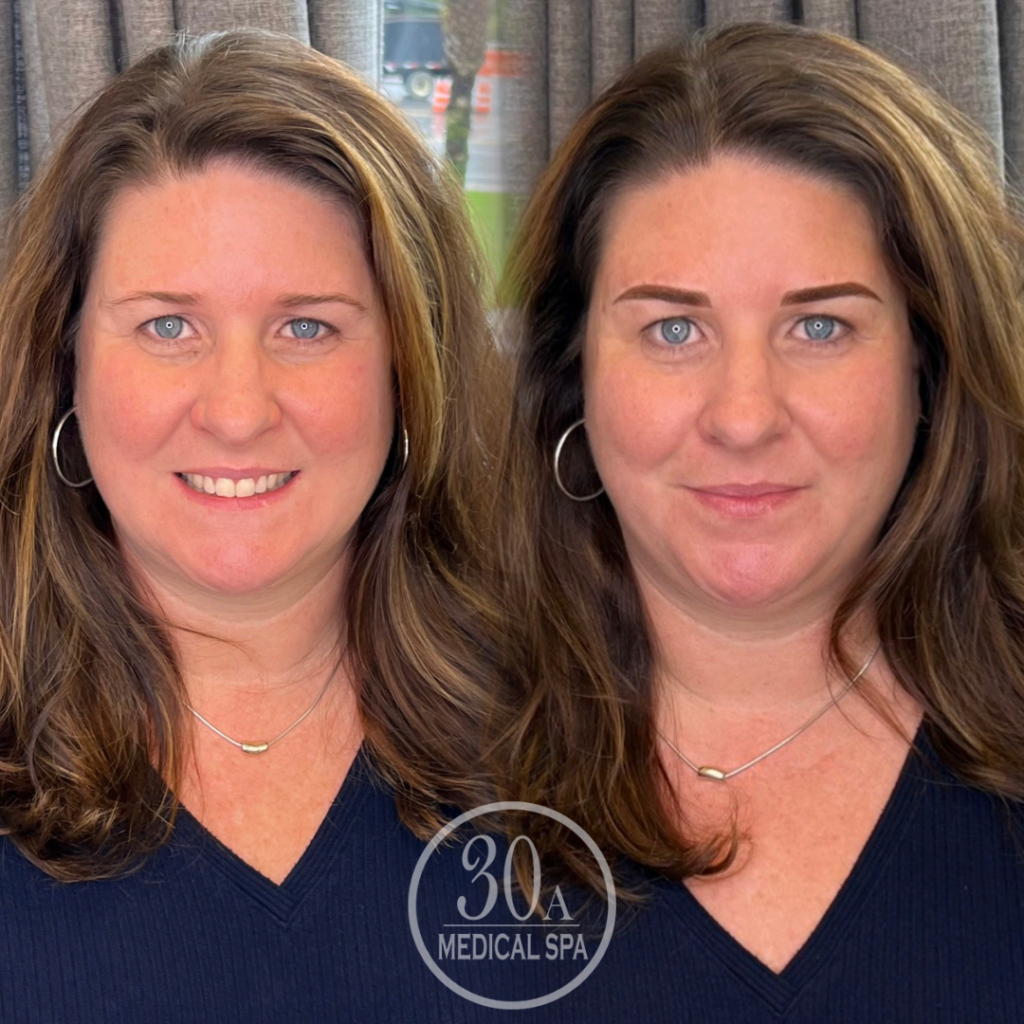 Eye Liner
To enhance the eyes, eyeliner pigmentation can be deposited along the base of your lashes, making it appear as though you have fuller, thicker lashes.
Expect moderate swelling, usually one to three days following the eyeliner service. While healing, the eyeliner tattoo will look spotty. This is due to regeneration of new skin. Healed eyeliner will fade up to 50%. Multiple sessions may be required to achieve the desired results.
FAQs
Which techniques of permanent makeup do you perform?
At 30A Medical spa, we offer the most advanced techniques available for PMU. Some of these include microblading, microshading, ombre brows, combo brows, nanoblading, powder brow, feathering and targeted shading.
Our permanent makeup artist will discuss these methods in detail at your consultation and decide which method will fit your needs for the desired look.
How Many Sessions of The Permanent Makeup Procedure Are Needed?
This procedure usually needs at least one follow-up to the first procedure.
We also recommend yearly touch-ups to maintain the original intensity. After the perfecting session, results usually last between one to three years.
Is Permanent Makeup Painful?
While pain levels are different for everyone, most clients experience little to no discomfort during their application. Topical anesthetic is applied prior to treatment.