Massage Therapy along 30A & South Walton, FL
Massage therapy can do wonders for your body, mind and soul. A relaxing and therapeutic experience, massage therapy may be just what you need to reduce stress, relieve muscle pain and improve mobility.
At our state-of-the-art med spa, we offer several massage therapies, each designed and customized to address your individual needs. Our experienced massage therapists will apply great care, paying special attention to your body's physical limitations and making modifications as needed. We apply soothing oils, hot towels and aromatherapy to help you relax and to create a peaceful environment that will help you reach a state of inner calmness.
30a Relaxation Massage
One of our most popular massages, this Swedish massage uses light to medium pressure and long, smooth strokes over the body to help relieve stress. We also incorporate aromatherapy and hot towels for a calming mind and body experience.
Deep Tissue Massage
Deep tissue massage focuses on the deepest layer of muscle tissue, targeting knots and muscle constriction. The therapist utilizes heavy pressure to relieve and release muscle tension.
Medical Massage
Focused on alleviating acute or chronic pain in a specific muscle or muscle group. The therapist may incorporate using neuromuscular therapy, myofascial release, active and resistant stretching, micro-current point stimulation, cupping therapy, hot/cold applications and/or Ayurvedic modalities, to reset and restore the body.
Hot Stone Massage
Heated stones are placed on the body and used to massage out kinks and knots in the muscles. The heat in the stones and the long, rhythmic massage strokes promote deep relaxation of the muscles and restores balance to the mind.
Add-On Services: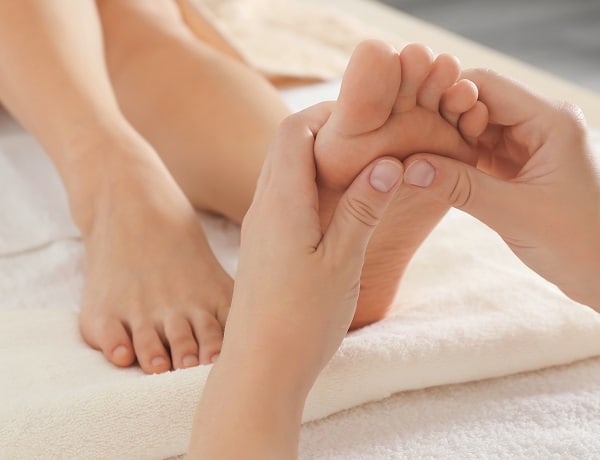 Body Scrub
This treatment gently removes dead skin cells, absorbs oil, soothes irritated patches and improves blood flow for more radiant skin. Our massage therapists utilize massage techniques in conjunction with the exfoliating power of scrubs leaving your skin soft, smooth, and hydrated. The experience can last anywhere from 45 to 60 minutes.
Body Wrap
This treatment is designed to improve the texture and appearance of the skin by helping to rid the body of excess fluids and toxins. Benefits of body wraps including detoxification, boosting of the lymphatic system, and skin softening. A final application of a nourishing lotion assists the body's own healing mechanisms to tone, soother, and restore the skin's natural moisture balance.
Hot Oil Scalp Massage
Warm oil is poured on the scalp and the scalp is massaged to relax the mind and encourage circulation.
Hand or Foot Scrub
Remove dead skin and soften the hands, feet or both.
Reinvigorate Your Mind, Body and Soul
Whether you wish to soothe an aching back or simply reset your mind, let our team of massage therapists help. A member of the 30a Medical Spa team can find the best massage treatment for your needs. Contact us today to schedule an appointment.
Florida State Massage Therapist License: MA 64176, MA 80806, MA 99418